// about
Hello, I'm Jules Rawlinson and I design sounds, visuals and interactions and perform with live electronics. I'm Programme Director of MSc Design & Digital Media at the University of Edinburgh
// update
Want something older? | Looking for my PhD?
Rebreather & Raw Green Rust, Sonorities, April 2018
Was delighted to be invited to perform twice at Sonorities Festival 2018 Belfast. Rebreather with Franziska Schroeder and reworked live visuals by Dara Etefaghi was selected to open the festival and Raw Green Rust, my laptop trio with Dave Murray-Rust and Owen Green played a fun and (at times) frantic set with more than a few false endings, which will hopefully appear on Radio 3's coverage of Sonorities later in the year
Photo: Teresa H
Transmitter|Receiver, Arizona State University, April 2018
A fantastic week with Lauren Hayes, Marcin Pietruszewski and others working in residence at Arizona State University to produce two new multimedia performances including sound, visuals and dance as part of LLEAPP 2018. Mapping visuals to the floor created new opportunities for interaction and dialogue with movement. Marcin and I also got an opportunity to present our work in progress on Unity Supercollider Sound Object Notation (UNISSON) as part of ASU's Digital Culture Series
Photo: Meghan Patzem
PixiDust, Seeing Sound, March 2018
Following our performance at Siren, my ECA colleagueYati Durant and I were invited to perform PixiDust at Seeing Sound Symposium, Bath Spa. We'd developed some new approaches to working with loops of video including feedback and looping techniques. The levels were quite hot into PixiVisor leading to some dropouts and eventual failure of PixiVisor, but overall it was a rigorous and exploratory performance.
Photo: Jo Hyde
Seeing Sound 2018 - Yati Durant and Jules Rawlinson, Pixidust 2 (performance) from Joseph Hyde on Vimeo.
PixiDust, SiREN, May 2017
My ECA colleagueYati Durant and I collaborated on a new audiovisual project, PixiDust, for the SiREN Arts & Digital Practices Conference organised by PhD students from Edinburgh College of Art. PixiDust is a structured improvisation that explores opportunities for integrated audiovisual performance through hybrid analogue/digital video synthesis. Images are encoded to an audio stream using the cross platform PixiVisor software and subsequently processed in the analogue domain before summing to a final analogue to digital audio-video conversion.
Photo: Dave Murray-Rust
Rebreather at Concurrent#2, January 2017
A chance meeting with Franziska Schroeder at Belfast City after Sonorities led to a new work developed via email and Skype, and presented as an audiovisual trio with live visuals by Dara Etefaghi. "The saxophonist's materials become the basis for the visual artist who uses these subtle sounds to inform and drive his response, tracing the gestures of the performer's breath. Live processing of the breath sounds allows us to enhance, as well as to counter the performative materials through filtering, dispersal and accumulation."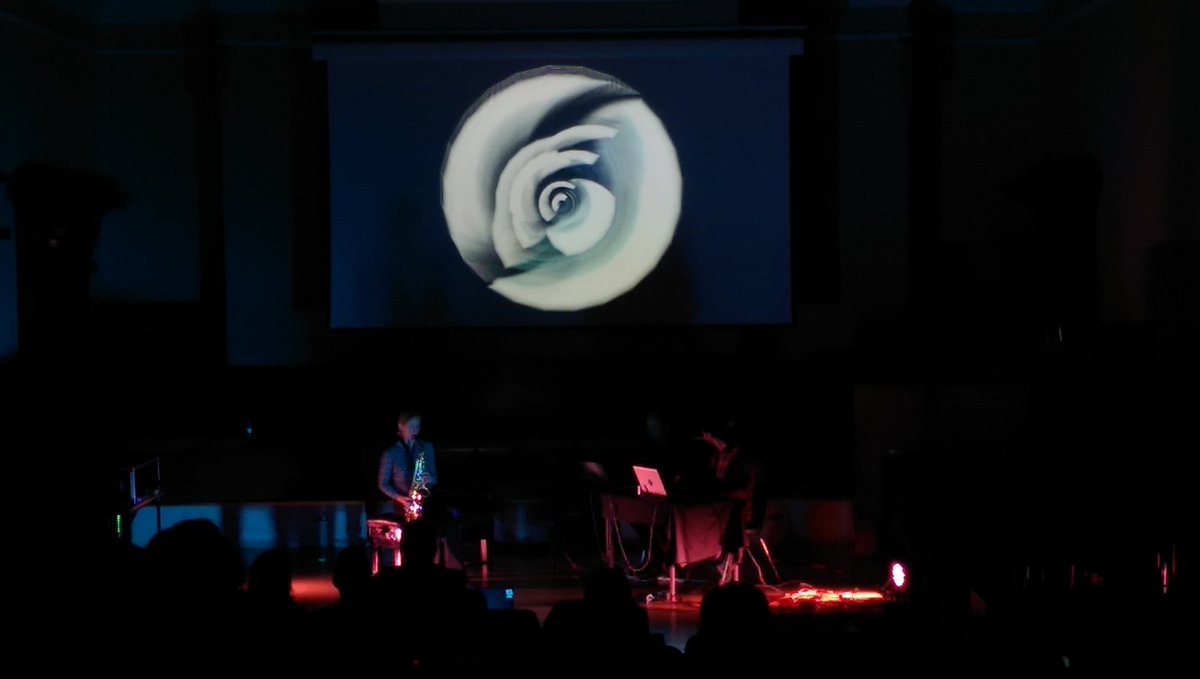 Re-breather from CAHSS Webteam on Vimeo.
SKR1BL-ing at Sonorities, November 2016
After showing SKR1BL at ICLI2016, I was very pleased to be selected for Black Box concert at Sonorities 2016, Belfast
Photo: Andrew Harrison
Requiem on record (and CD/DL), April 2016
Requiem for Edward Snowden, my AV collaboration with Matthew Collings is now available on CD/DL/LP from Denovali and includes a download code for full visual piece. I designed all the artwork for the release across the different formats.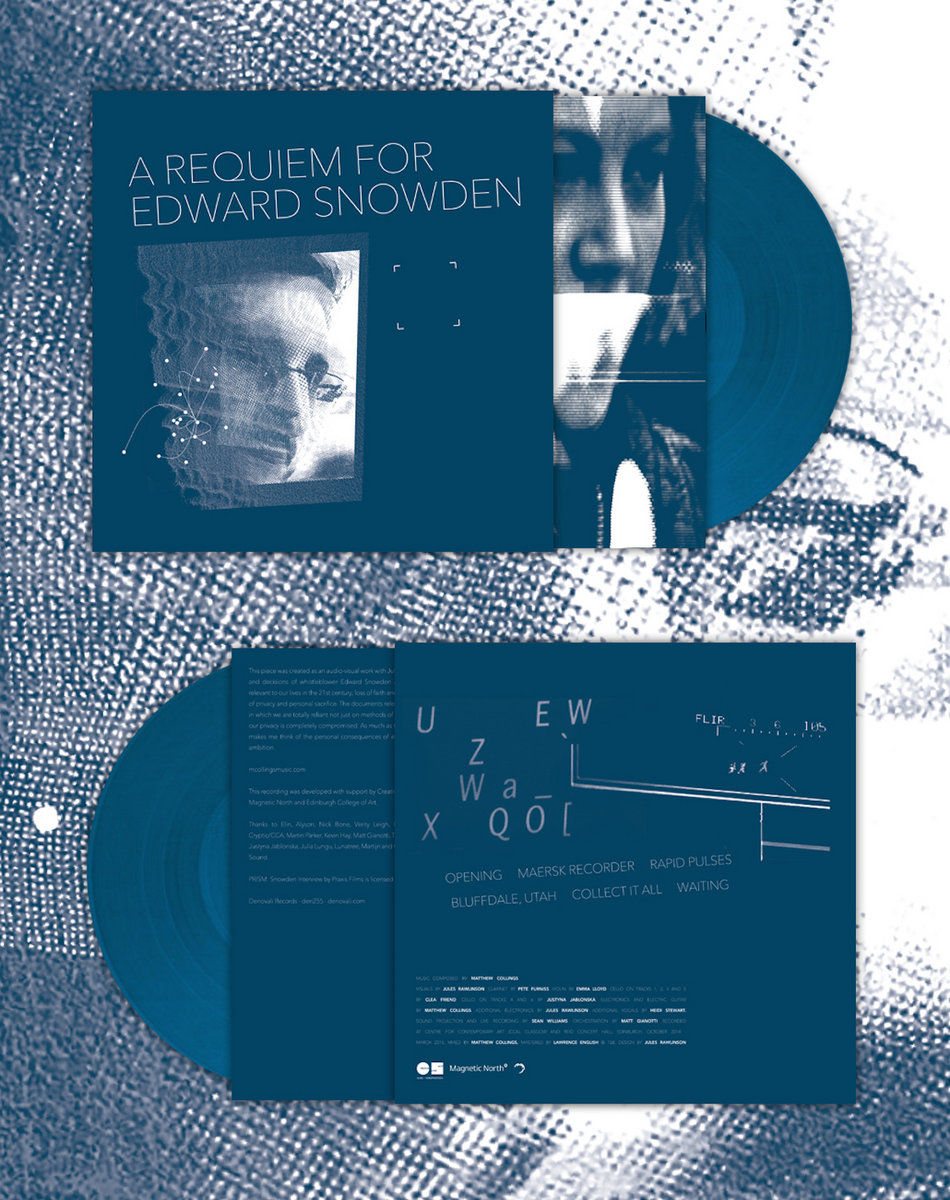 SKR1BL, February 2016
At long last I've made something out of all the graffiti tags that I've been collecting over the last few years. 60 page score, about 10 mins long, graphics tablet and other gestural controllers. I've even put together a live visuals system in VDMX that maps the same controllers that I use to control MaxMSP to video effects to create some kind of consistency and unity... The following video performed live, in one take...
skr1bl_rec01_080216 from pixelmechanic on Vimeo.
Requiem in a Cathedral (actually Werkspoorkathedraal, Utrecht), September 2015
Matthew Collings, Sean Williams and I had a great experience working with Dutch ensemble Lunatree, next up Sound Festival, Aberdeen!
Requiem Returns, Edinburgh Fringe, August 2015
Matthew Collings and I were selected by Made In Scotland to perform Requiem for Edward Snowden over three nights at the Edinburgh Festival Fringe as part of their curated showcase of Scottish performance. We received some good press including this preview from the Scotsman.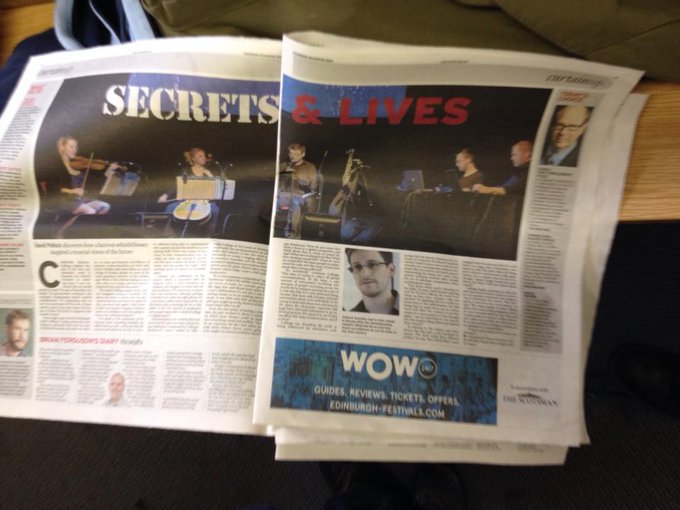 We had great input from our partner Magnetic North, and, as ever our performers, Pete Furniss, Clea Friend, Julia Lungu and Sean Williams. Thanks also to Creative Scotland, New Media Scotland and Edinburgh College of Art for continued support.
Matt, Sean and I will next perform the work in Utrecht with Dutch ensemble Lunatree at Gaudeamus Muziekweek, before performing it at Sound Festival, Aberdeen in October 2015
Sonorities, Belfast, April 2015
Please Use The Tramps Provided has been selected as one of the the centre piece works at Sonorities 2015, Ireland's premier festival of digital and contemporary music, digital arts, sound art, video and installation art.
The theme of this years festival is 'fractured narratives', which suited Tramps remediated late night Tube journey from north to south London on the Victoria line (specifically inspired by frequent dashes to catch the last train to Brixton after flying to Stanstead).
Requiem Revisited, CCA Glasgow, March 2015
Matthew Collings and I gave a second performance of Requiem for Edward Snowden to a full CCA thanks to support from Cryptic Nights
Photo: Alex Woodward
Thanks to our musicians Emma Lloyd, Pete Furniss and Clea Friend, and also thanks to Sean Williams for his (as ever) detailed sound projection
Matthew and I now have funding to perform the piece at the Fringe thanks to Creative Scotland's Made in Scotland stream.
FMRL (aka pm'd for Maths), Novars Manchester, Oct 2014
As the saying goes on Muffwiggler "audio, or it didn't happen"!
No pics and no sound, but was invited to perform at Novars in Manchester as part of Sines & Squares festival alongside some other modular musicians. Thanks to all organisers and participants for a fine time!
Requiem for Edward Snowden, Reid Hall Edinburgh, Oct 2014
I spent much of my 'professional development' time over the summer creating visuals in collaboration with composer Matthew Collings for our Creative Scotland and New Media Scotland funded project 'Requiem for Edward Snowden'
We premiered it to a full Reid Hall on October 11th, with thanks to our musicians Emma Lloyd, Pete Furniss and Justyna Jablonska, and also thanks to Sean Williams for his (as ever) detailed sound projection and Matt Giannotti for help with score arrangements.
Chris Scott, master of low light photography, was there with his camera
Pulse programming, Glasgow's Old Fruitmarket, Oct 2014
Have been working with Matthew Collings over the summer on a big project (more of which to come...), and as a by product I performed live visuals to Matt's set taken from his albums Splintered Instruments and Silence Is A Rhythm Too at Glasgow's Old Fruitmarket.
It was fun, and a real test due to darkess and volume... at one point my whole rig threatened to turn to dust due to bass weight! Probably the biggest bill I've been on to date, other acts were Scanner, Gazelle Twin and Wrangler