// old news
Want something newer? | Want something even older?
Requiem on record (and CD/DL), April 2016
Requiem for Edward Snowden, my AV collaboration with Matthew Collings is now available on CD/DL/LP from Denovali and includes a download code for full visual piece. I designed all the artwork for the release across the different formats.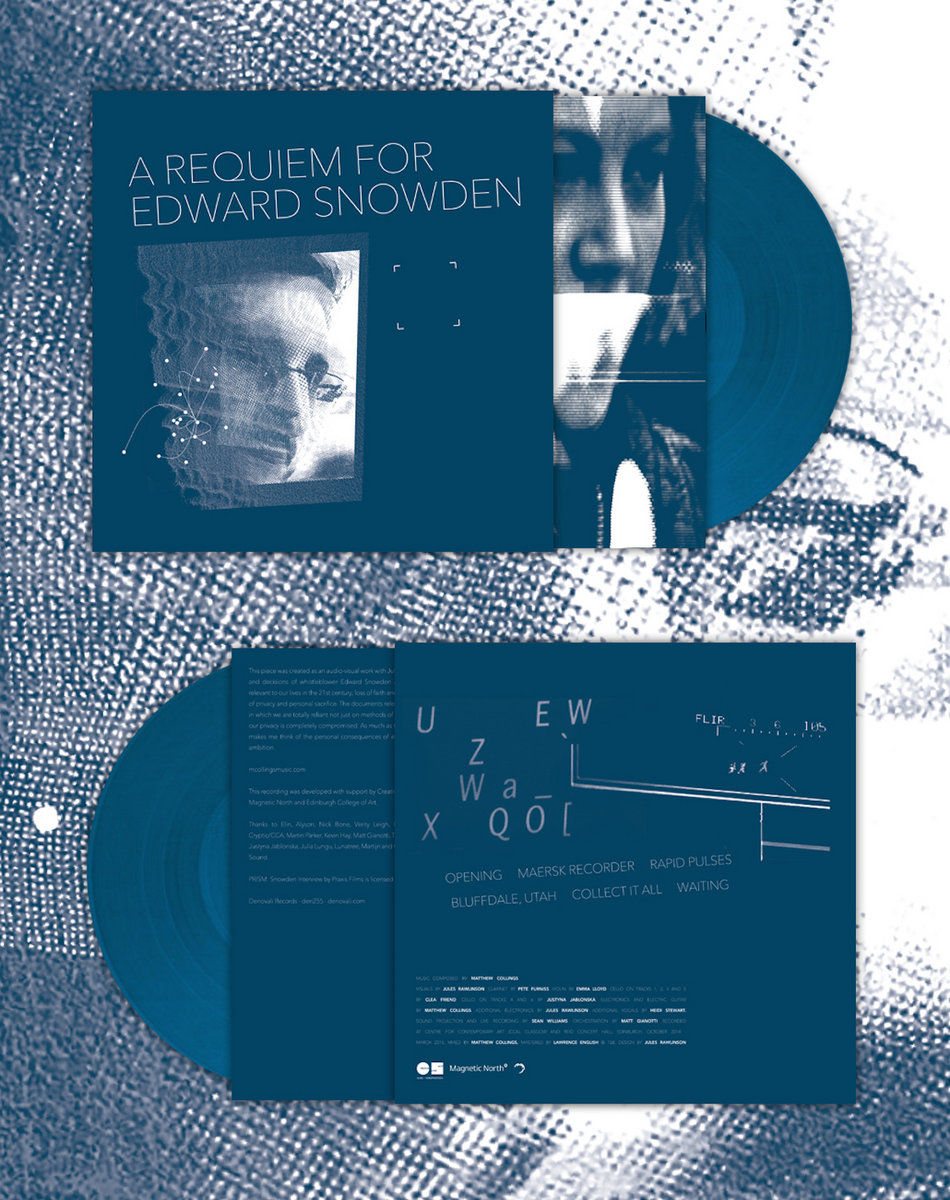 SKR1BL, February 2016
At long last I've made something out of all the graffiti tags that I've been collecting over the last few years. 60 page score, about 10 mins long, graphics tablet and other gestural controllers. I've even put together a live visuals system in VDMX that maps the same controllers that I use to control MaxMSP to video effects to create some kind of consistency and unity... The following video performed live, in one take...
skr1bl_rec01_080216 from pixelmechanic on Vimeo.
Requiem in a Cathedral (actually Werkspoorkathedraal, Utrecht), September 2015
Matthew Collings, Sean Williams and I had a great experience working with Dutch ensemble Lunatree, next up Sound Festival, Aberdeen!
Requiem Returns, Edinburgh Fringe, August 2015
Matthew Collings and I were selected by Made In Scotland to perform Requiem for Edward Snowden over three nights at the Edinburgh Festival Fringe as part of their curated showcase of Scottish performance. We received some good press including this preview from the Scotsman.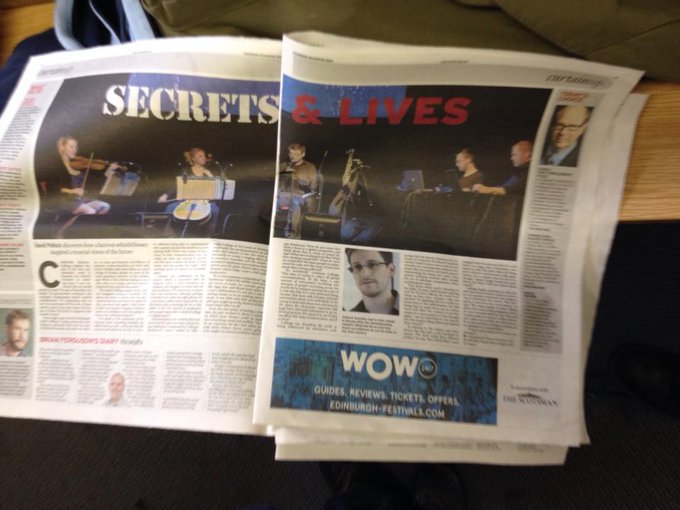 We had great input from our partner Magnetic North, and, as ever our performers, Pete Furniss, Clea Friend, Julia Lungu and Sean Williams. Thanks also to Creative Scotland, New Media Scotland and Edinburgh College of Art for continued support.
Matt, Sean and I will next perform the work in Utrecht with Dutch ensemble Lunatree at Gaudeamus Muziekweek, before performing it at Sound Festival, Aberdeen in October 2015
Sonorities, Belfast, April 2015
Please Use The Tramps Provided has been selected as one of the the centre piece works at Sonorities 2015, Irelandís premier festival of digital and contemporary music, digital arts, sound art, video and installation art.
The theme of this years festival is 'fractured narratives', which suited Tramps remediated late night Tube journey from north to south London on the Victoria line (specifically inspired by frequent dashes to catch the last train to Brixton after flying to Stanstead).
Requiem Revisited, CCA Glasgow, March 2015
Matthew Collings and I gave a second performance of Requiem for Edward Snowden to a full CCA thanks to support from Cryptic Nights
Photo: Alex Woodward
Thanks to our musicians Emma Lloyd, Pete Furniss and Clea Friend, and also thanks to Sean Williams for his (as ever) detailed sound projection
Matthew and I now have funding to perform the piece at the Fringe thanks to Creative Scotland's Made in Scotland stream.
FMRL (aka pm'd for Maths), Novars Manchester, Oct 2014
As the saying goes on Muffwiggler "audio, or it didn't happen"!
No pics and no sound, but was invited to perform at Novars in Manchester as part of Sines & Squares festival alongside some other modular musicians. Thanks to all organisers and participants for a fine time!
Requiem for Edward Snowden, Reid Hall Edinburgh, Oct 2014
I spent much of my 'professional development' time over the summer creating visuals in collaboration with composer Matthew Collings for our Creative Scotland and New Media Scotland funded project 'Requiem for Edward Snowden'
We premiered it to a full Reid Hall on October 11th, with thanks to our musicians Emma Lloyd, Pete Furniss and Justyna Jablonska, and also thanks to Sean Williams for his (as ever) detailed sound projection and Matt Giannotti for help with score arrangements.
Chris Scott, master of low light photography, was there with his camera
Pulse programming, Glasgow's Old Fruitmarket, Oct 2014
Have been working with Matthew Collings over the summer on a big project (more of which to come...), and as a by product I performed live visuals to Matt's set taken from his albums Splintered Instruments and Silence Is A Rhythm Too at Glasgow's Old Fruitmarket.
It was fun, and a real test due to darkess and volume... at one point my whole rig threatened to turn to dust due to bass weight! Probably the biggest bill I've been on to date, other acts were Scanner, Gazelle Twin and Wrangler
Contact